A qualified Humanist Celebrant and professional singer, providing bespoke legal weddings and secular ceremonies for important life events.
A qualified Humanist Celebrant and professional singer, providing bespoke legal weddings and secular ceremonies for important life events.
Barry is a qualified Humanist Celebrant, licensed by the State as a registered legal solemniser, accredited by the Humanist Association of Ireland
He is a professional singer with over 20 years experience.
His expanding repertoire of songs can pay tribute to a loved one, comfort those present and add a bespoke live performance to any ceremony. Barry has performed at funerals, weddings and festivals including Glastonbury and Electric Picnic, and live on RTE TV and radio, and BBC Radio Ulster.
Plan Your Ceremony
You can contact me directly, or your funeral director will arrange for me to contact you.
We will meet in person, by Zoom/Skype or by phone for approximately one hour, where I will get to know your loved one through your memories, photos and mementos.
You may assign roles to family members e.g. eulogy, readings, poems, music.
Agree Ceremony Content

We will decide upon the most suitable ceremony for your loved one and I will create the ceremony plan, including running order and content.
I will send you the ceremony plan after our consultation.
I will contact you to agree any final changes you may have. Any photos for a slide show or music should be ready to send to me or the funeral director.
On the Day
The ceremony will be a space to connect with your loved one, where you can say a final goodbye.
 We can meet beforehand to go through any parts of the ceremony you wish.
If needed I will perform the entire ceremony from start to finish.
Together we will create a unique ceremony that honours your loved one, reflects their personality and comforts those who miss them. I will help you choose the right music, poetry or readings that are appropriate and respectful.
Secular Ceremony e.g. Humanists, Atheists
Entry music – Over the Rainbow
Welcome
Poem – Funeral Blues: W.H. Auden
Story of a Life
Moment of Reflection
Committal
Song – The Parting Glass
Close
Exit music – Imagine: John Lennon
datetime="2023-01-16T15:25:20+00:00″>
Ceremony 2 Options
Entry music
Welcome
Poem
Eulogy
Moment of reflection
Committal
Poem – Do not stand at my grave and weep
Close
Exit music
Ceremony 3 Options
Entry music – Voyage: Christy Moore
Welcome
Eulogy
Committal
Song – Fields of gold
Close
Exit music – Always look on the bright side of life: Eric Idle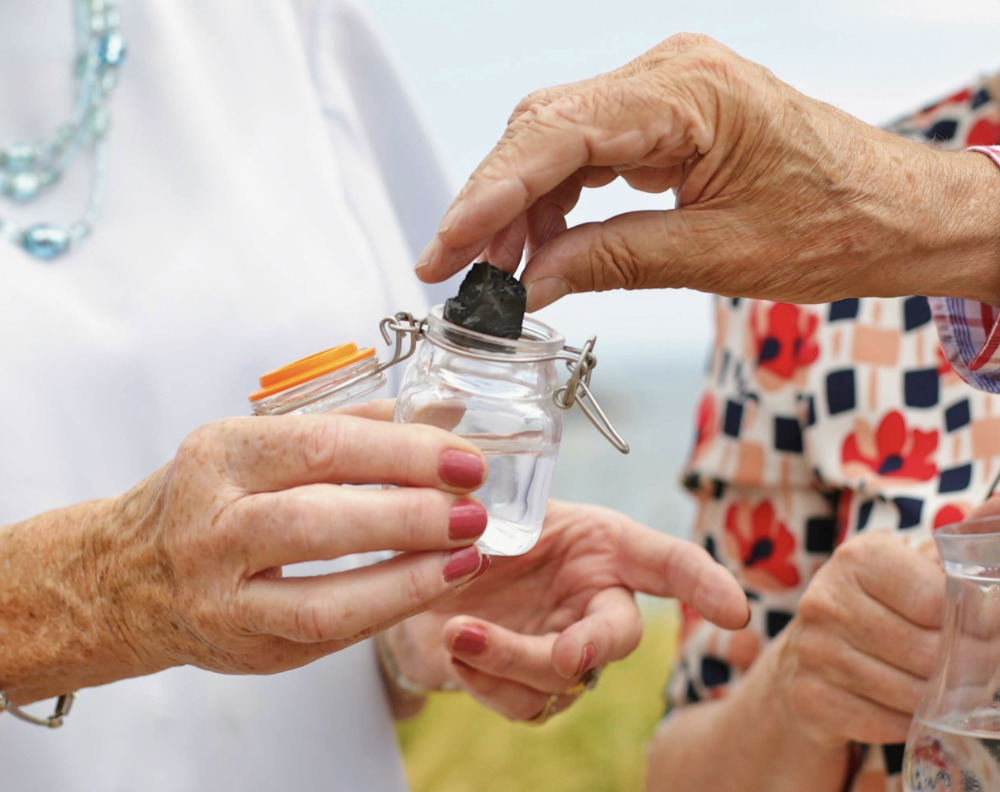 A child or baby naming ceremony is designed to introduce a child to their family, friends and community. It can include symbols, music, poems as well as nominating the child's Godparents, Oddparents or Guideparents.
Transgender naming or renaming ceremony – This meaningful act of self-expression is an opportunity to formally celebrate this milestone and say thank you to those who helped and supported you along the way. Together we will craft a ceremony that reflects your personality, honours your story and celebrates your identity.
A memorial allows us to gather in a group to say a proper goodbye to a loved one, at their home, the cemetery, or a place they held dear. This can happen at a time that feels emotionally right for the family and friends to do so.
If you want a ceremony that you can be present at, a living funeral or farewell ceremony can help focus joy on the positive memories of your life. This is a chance to gather with those whose lives you have touched, and whose lives have touched yours.
It's an opportunity to acknowledge the bonds of family and friendship, and say a final goodbye. A ceremony that treasures the limited time you have left can help you feel most alive.
Planning your own ceremony can be very life affirming, as it reminds us that our time is limited and encourages us to get more out of our lives. And it is one less task for your loved ones to complete when you're gone.
I'll help you arrange your own ceremony, from Service format, Obituary contents and Eulogy writing to Photograph selection, Music, Service booklet and Contributors.
Some weeks ago I performed a Civil funeral for a man in Dublin, and his wife sent me this lovely message afterwards....